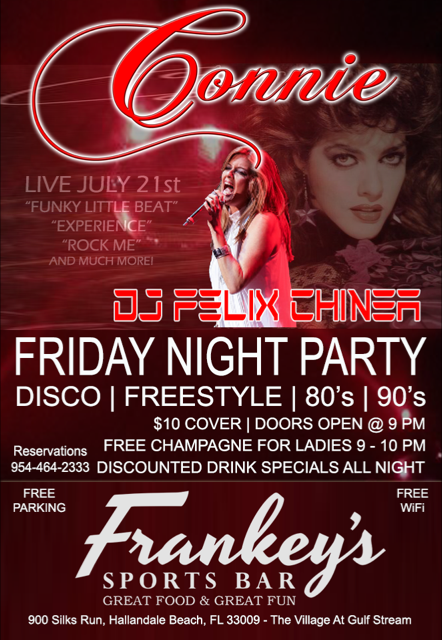 Funky Little Beat, regarded as one of the defining songs of the freestyle era, still holds its own today. While Connie's other popular hit – ROCK ME – reaches a new younger audience as the soundtrack to the NIKE commercial filmed at the Berrics.
The South Florida native's smash hit "Funky Little Beat" is regarded as one of the most important Latin freestyle singles of its time. Connie set the stage for many up and coming artists to follow her footsteps in the freestyle music genre that originated in South Florida in the 80's.
Connie has reunited with producer Amos Larkins and the two have emerged with the brand new album, AMOS LARKINS PRESENTS CONNIE PARTY TIME 1. Connie continues touring with fellow freestyle artists such as Stevie B, Lisa Lisa, Shannon, Taylor Dayne, and Vanilla Ice.
Connie remains "FOREVER FUNKY" and continues recording, touring and inspiring future generations.
UPCOMING CONCERT DATES: 

03/31/17: Agave Sports Bar, San Jose, CA
04/09/17: Royal Music Festival, San Antonio, TX

06/24/17: Cafe Iguana Benef Concert, Pembroke Pines, FL

07/21/17: Frankey's Sports Bar, Hallandale Beach, FL
11/3/17, San Jose, CA

11/4/17, Modesto, CA.